I've been so busy with my part time job and trying to enjoy the last of summer that I've almost completely forgotten about this blog!
I guess all I can say is that I'm happy with where I am, and who I'm with.
I've been buying little things here and there to add to my makeup/wardrobe.
This eyeliner formula is soooo smooth and so vibrant. Perfect. Even if my eyes water or I rub them a little they stay put. This swatch was just one pass. IMAGINE.
I bought these here.
I use them so much for everyday and they really bring life to my eyes even when I'm tired ehehe~ I use it often for cosplay a lot too since it's sooo bright and light catching.
Needed a new powder/foundation to set my makeup and it's been amazing. Even better than my MUFE Duo matte powder I used to use. This is much kinder to my skin skin and doesn't clog my pores. Goes on super light so not much coverage but still nice!
I'm wearing the MAC powder and the gel liners in this pic :> Also I love my new spiked headband. I wear it as often as I can. It just adds that certain touch to an otherwise neutral outfit~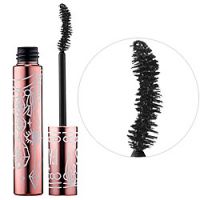 I also took advantage of Sasa having a free shipping event to grab Fairy Drops mascara because I've been wanting to try it for ever.
So far it's treating me well! Sometimes it flakes a tiny tiny bit but it's nothing I can't handle since my heroine mascara also flakes. But I must say the length is AMAZING from Fairy Drops. I was not disappointed. It also holds a curl fairly well. AND WATERPROOF.
Crazy length on my sparse and super straight lashes!!
And see what I mean about the payoff on these smoody pencils? Super nice.
The boyfriend also bought me these suuuuper cool tights! Sorry for the weird angle but it captured the kirakira ness! They are so unique and I've never seen a design like that before! I'm so grateful he bought these for me. Even if I wasn't willing to spend yet more money on my tights addiction orz||||
They were a very reasonable price and haven't torn yet!
Until next time when I can review more things! :>